Hummeren Hotell and Stavanger Deep Sea Fishing Club (www.sdsfc.no) and the ship Doffen can offer the complete fishing experience in the sea outside Tananger. We can accommodate both small and large groups.
See the video from deep sea fishing:
The boat can take between 4 and 12 people.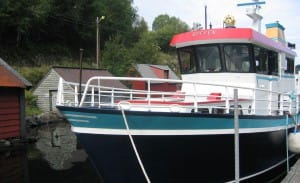 Fishing equipment and mackerel bait are provided. Food and drink for the deep sea fishermen and -women will be provided on request by the hotel's excellent kitchen.
Hummeren Hotel together with local operators and associations also facilitate other types of activities such as:
A guided local history tour in the Tananger Coastal Collections (museum)
Tour of Tananger with a private guide
Boattrip to the island Rott including guiding
Risavika from the sea side
Canoe trip with the Sea Scouts
Learning to splice rope.
Activities can be tailored upon request.
Contact us for more information and prices.